Archive for the 'Misc. Stuff' Category
My mouse, John Adams, turned 7 years old today. From what I have found online, she – – yes, she – – is the world's oldest mouse by 3 years. Happy birthday to John Adams!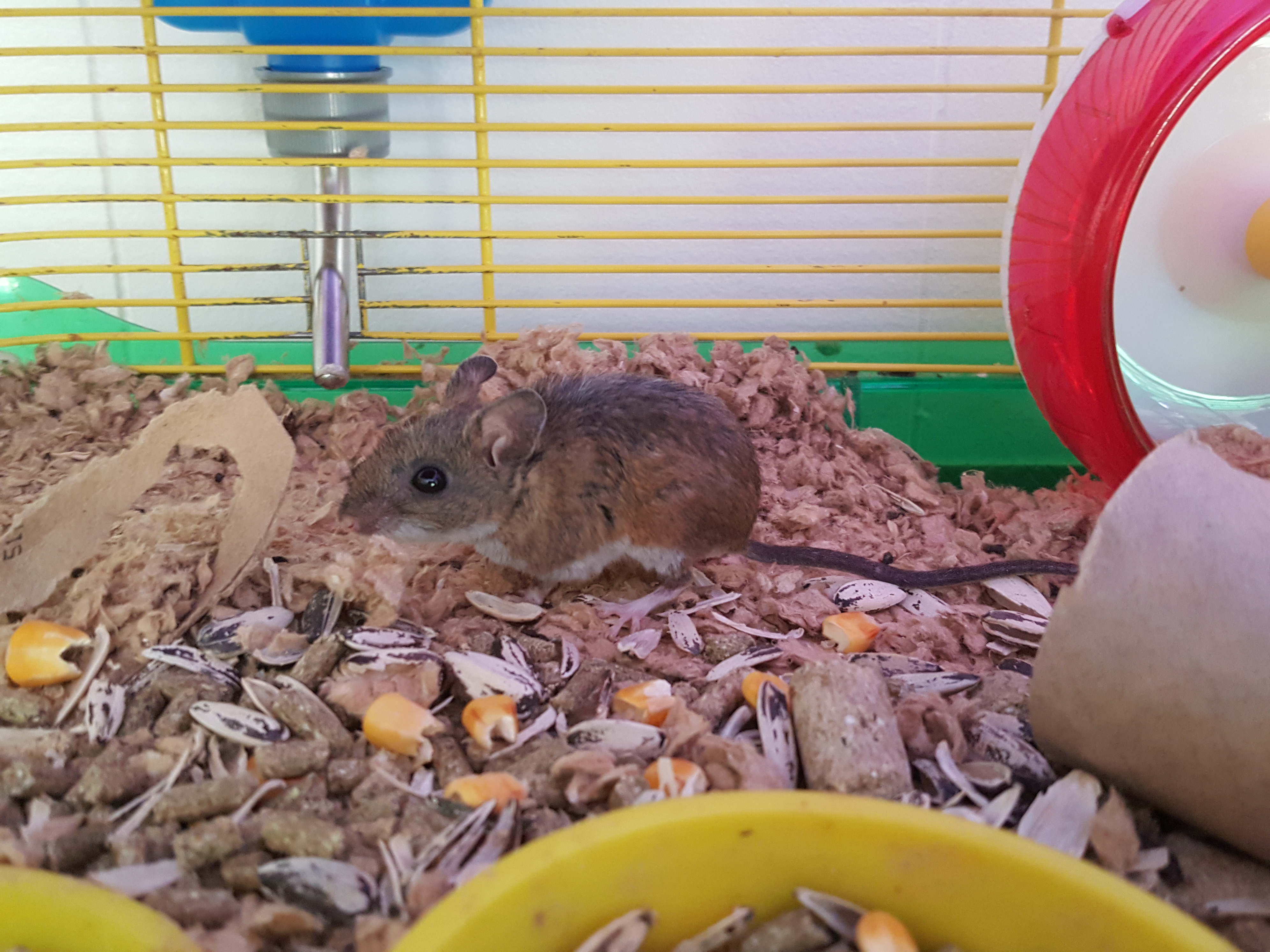 Last week I received an Explanation of Benefits (EOB) for my PET scan. I was quite surprised to find that my insurance – – by "my" insurance I mean the insurance my husband and I have through his employer – – denied the claim, making us responsible for the entire $4,100 bill. According to the insurance, Blue Cross, the test was medically unnecessary.
I began making phone calls in an attempt to sort out the mess. My doctor's nurse seemed like the place to start, since she told me that she'd be taking care of the pre-approval. However, when I spoke with her on the phone, I learned that she doesn't take care of the pre-approvals directly — rather, my doctor's office contracts with a company that does it for them. I also learned that the test was pre-approved and that the nurse was given a confirmation number corresponding to the pre-approval. She gave me the confirmation number, along with the name of the company that was responsible for the pre-approval.
Meanwhile, my husband called Blue Cross and was told by a representative that they didn't receive a request for pre-approval. (Isn't that convenient?!) She asked if we had anything in writing that shows the PET scan was approved. (Nice!) My husband told her we have a confirmation number from the company that got the pre-approval. Of course the confirmation number meant nothing to her. (Again, convenient!)
I called the office that is handling the billing. The woman on the other end was interested in the confirmation number, so I gave it to her. She told me she would research the issue and call me back within a week. A couple hours later, my phone rang. It was the billing office. I was told that they were going to file an appeal. She said it would take 4-6 weeks to get a decision. I'll hear back from them at that time.
I plan to call the company that handled the pre-approval. I am hoping that if I give them the confirmation number that they'll be able to provide me with proof — perhaps a letter from Blue Cross — of the pre-approval. Providing evidence that the test was pre-approved should make the appeal unnecessary. That's what a reasonable person would think. Unfortunately, insurance companies can be anything but reasonable.
I plan to make a couple phone calls this afternoon. I'll update this when I have new information to share.
The link below is for an article about a cat from Saybrook, IL, named Dutchess. Dutchess received second and third degree burns as a result of a fire that destoyed her family's uninsured home. Dutchess is receiving burn care at the University of Illinois Veterinary Teaching Hospital. Dutchess' family is unable to pay for her medical care. A fund has been set up for her. Its goal is to raise $5000. Thus far, over $3000 has been donated from people all over world. If you can help, follow the instructions at the end of the article.
http://www.news-gazette.com/news/people/2012-10-09/donations-around-world-help-burned-cats-medical-care.html
I was diagnosed with fibromyalgia about six years ago. Upon diagnosis, I was given the drug Cymbalta to help with my pain. The initial 30mg dose caused me to feel a bit spacey, but  that subsided after a couple weeks. My dose was eventually increased a second and final time to 60mg. Again, I felt spacey for a couple weeks. Once that subsided, I started feeling better; the drug helped with the pain I was having at the time.
Before swallowing my first dose — as is the case with all new drugs — I read the prescribing information. Of course the drug had its fair share of potential side effects, but all drugs have side effects. I was not deterred. I was warned by friends who had taken the drug that discontinuing it was difficult and extremely unpleasant. Still, I was not deterred. I figured I'd be on it for a long period of time, if not indefinitely, so why worry about discontinuing it? As it turns out, there are plenty of reasons to worry about discontinuing Cymbalta. Check this out.
Wouldn't it be awesome if everyone who could benefit from the wheelchair — a.k.a. the Ripchair — that Howe and Howe Tech built for Rocky could afford one? As it stands, according to Howe and Howe Tech, the Ripchairs cost $40,000 a pop. That's just the cost to build one; that figure does not include profit.
It would be a dream for the company to see the chairs get to each person who needs one. Though they are pursuing ways to make the chairs less expensive, it will likely be extremely difficult, if not impossible, to make the Ripchairs affordable. What the company needs is a financial backer(s)  — we're talking very generous people, like Oprah — to make this dream a reality.
If you are reading this, and you know of such a person/people, please contact Howe and Howe Tech to let them know. They can tell you how to proceed from there. Their contact info is below:
info@howeandhowe.com
Also, I'd like to thank Howe and Howe Tech for taking the time to respond to my e-mail. You guys are amazing and the work you do is awesome. 🙂
So last night we went to Best Buy and picked up another Palm Pre. (The lady my husband spoke with from Sprint informed him that we could get one cheaper through Best Buy.) Since I backed up the information from the broken Palm Pre — which is now listed on Ebay — I didn't have to re-enter my phone numbers or the stuff in my calendar. 🙂
I finally got around to replacing my Sprint Mogel on Monday. I bought a Palm Pre. The phone is awesome. Unfortunately, I accidentally dropped it on the way home from the post office yesterday. The screen cracked and the phone is now useless. Sprint said they can replace the phone…for $600. I am displeased by this.